Monday 5/13 Aerial Hoop Essentials for Advanced Beginner to Intermediate Students with Rachel Strickland 7:30-9:30pm @ CarmelClick Here to Register Now!
This workshop lays a framework of essential tricks and transitions that will provide a solid foundation for exploring aerial hoop and free students to enrich their own choreography.** Learn tricks, hangs, and
transitions, then add the magic ingredient of spin. Emphasis is on solid technique, aesthetic, and showmanship. And fun! Did I mention it is really fun?
Workshop is intensive and aims to significantly increase aerial hoop vocabulary for students. Students are urged to bring a notebook to record notes. I aim to fill up your brain!
Expect a relaxed but focused warm up and stretch, and to spend a significant amount of time in the air!
**Please note this workshop is for students already studying aerial. Students must have a solid strength base and be able to invert. Without this foundation the benefit of the vocabulary is greatly compromised.
Investment: $50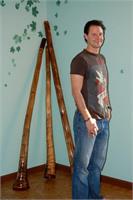 Friday 5/24 Didgeridoo Meditation: A Sound Journey into Dreamtime with Matt Lyon 7:30-9:30 @ East Blvd
Click Here to Register Now!
Join Dr. Matt Lyon as he leads you on a guided meditation into your deepest core – into a place of deep rest, creativity, and profound connection. Dr. Lyon will use the ancient and profoundly didgeridoo along with guided meditations to lead you into a place of deep, primordial peace. The Didgeridoo is powerful for meditation as it effortlessly brings our brain and nervous system into a state of deep rest deeper than sleep – into the brain waves associated with deep meditation and profound regeneration. This is for you if:
You want a deep experience of meditation

You are an experienced meditator and want to go into a deeper, more embodied experience

You are brand new to meditation and want a safe, easy, and fun way to experience it

You find meditation difficult because "you can't slow your mind" or "feel too restless"

You want to improve your health naturally You want to feel more spontaneous joy, gratitude, connection, and peace
Dr. Lyon is a local Charlotte mind-body health wellness expert. Dr. Lyon has been practicing daily meditation for two decades and began teaching meditation to others at the age of 16. Using the principles he teaches, Dr. Lyon has helped clients in the United States and Europe to transform and awaken to a more meaningful, healthy and purposeful lives. He delivers workshops in the US and Europe. He has owns a waiting-list holistic and integral chiropractic practice in Charlotte NC.
Cost: $25
Sunday 6/2 Didgeridoo Deep Stretch with Zach McNabb and Wendy Swanson, 6:15-7:30pm at East Blvd
Click Here to Register Now!
Enjoy our most popular class with Didgeridoo vibrations provided by Zach McNabb. The didgeridoo is an indigenous Australian instrument that is best known for its healing tones and deep vibrations. It's a perfect addition to Deep Stretch, which is a relaxing class made up entirely of floor postures, suitable for all body types and experience levels.
Investment: $16 Drop in, or a class off your regular pass
Friday 6/14 Let Your Yoga Dance with Kimberly Beroset 7:30-8:30pm at East Blvd
2nd Friday and 3rd Sunday of every month. Let Your Yoga Dance is an amazing Chakra Fusion! It is joy-filled powerful conscious dance practice combining yoga, the breath, and user-friendly dance with fabulous music from all around the world. It is a funky, sacred, inspirational dance of the multi-dimensional self, bringing tons of fun and healing to body, mind, spirit. Let Your Yoga Dance® is for every single body and wonderful for all ages. Let Your Yoga Dance is done barefoot or with footwear made for dance (no street shoes allowed on the Be Yoga floor).
Investment: $10 cash, check or charge
Monday 9/16 & Tuesday 9/17 Your Body Thrive with Cate Stillman
Click Here to Register Now!
Come do yoga and learn practical ayurveda for your health evolution! $108 for both if you sign up by Sept. 1st!
Build Your Immune System with Cate Stillman at Be Yoga Dilworth
Monday 9/16/2013 6:00 pm – 8:30 pm
Get you and your family ready for the winter! This lecture, yoga practice, and a follow up webinar will build your immune system for fall and winter.$60 for Individuals, $75 for Couples
Ayurveda On the Mat with Cate Stillman at Be Yoga Carmel
Tuesday 9/17/2013 12:00 pm – 3:00 pm
For Yoga Teachers and Students
Investment: $80, save $15 if you register by 9/1!
Get More Info About Cate's Visit
Cate Stillman, founder of Yogahealer.com, teaches yoga students and teachers worldwide a practical and evolutionary approach to Ayurveda. Yoga awakens our subtle body anatomy… Ayurveda teaches us how to care for our awakened anatomy through upleveling our daily routines. Cate is a master of making the esoteric practical and life-enhancing. Check our her "Ayurveda for Yogis Free Training" at www.yogahealer.com.